Here's what our customers say
" I love the designs -I got so many compliments for the bikini. I love the bright colours and it makes me stand out in a crowd for sure. Perfect for a beach day." -
- @lillydouse, Entrepreneur
" I had the most amazing experience with Estateswim swimwear. It is the softest & most beautiful fabric and such an amazing fit. Love the brand!"
-@Jessicajadeleigh, Entrepreneur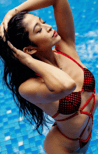 " Comfy quality swimwear with very unique designs! Love a swimwear that stands out!"
-Actress and Host
-@munahbagharib, Actress and host
"I love the design of the bikini, had a very lovely packaging, the delivery was great. Product went well with my content. You had my favourite colours"
-@yanochka22, Model